EENEWS-Eneviro&Economic News
VI Top-Ion Skin-Ion with revitalized healing power of water
Water generator to revitalize health properties of water in our life
More popular in overseas because of FDA approval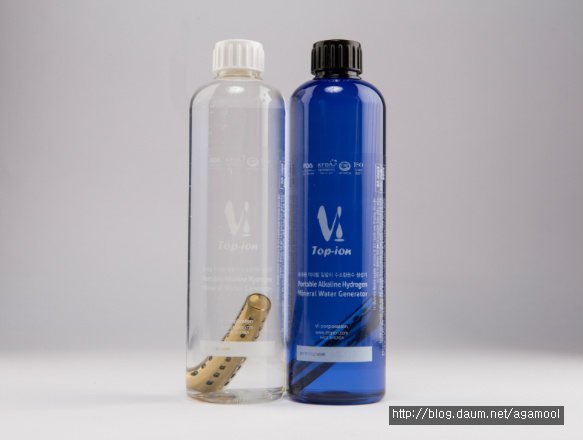 The circulation structure of drinking water is being revolutionized.
A device that breaks down hazardous substances through active minerals generated with generating pure natural hydrogen ions and -0.9~-1.5v of natural electricity through change of water particles, has been developed successfully after about 10 years of research and heralds a new revolution of the 3rd water circulation technology. In the meantime, medical properties on alkaline reduced water have been kwon well.
It has been known as another of the 3rd medical substan ce being effective for large intestinal diseases,adult diseases,chronic diseases,anti-aging,etc.
Clinical significances on alkaline reduced water are divided into water for drinking and water for bathing, and in Korea, MFDS has recognized that alkaline reduced water is effective for remedy of indigestion, hypergastric acidity, chronic diarrhea and abnormal fermentation in the intestines and also physical properties of electrolyzed alkaline reduced water are fundamentally different from other similar waters.
In terms of anti-oxidative effect, they face the fact that it removes oxygen free radicals, helps to prevent various incurable diseases and is significantly effective for longevity.
The reports, that even in terms of improvement of fat metabolism and diabetics, alkaline reduced water converts cholesterol into bile, and in case of renal diseases, alkaline reduced water is beneficial to patients with renal diseases because it reduces oxidative stresses of hemodialysis patients and increases excretion of melamine fatal to kidney, has become usual.
Through such effect verifications, alkaline ion water was introduced to Korea from Japan 20 years ago and has grown on an axis of domestic water purifier market.
The effectiveness of alkaline reduced water for removal of oxygen free radicals in the living body has been proved gradually, internationally and medically, and in addition to drinking, various applications to bathing and beauty care is known as effective for restoration of biorhythm very beneficial to modern people.
However, the formation of domestic market on alkaline water generally shows predominant tendency to water ionized through forceful electrolysis. Such phenomenon is the way of diluting by crashing bedrock, which has a big difference in ionizing process from water with ions naturally dissolved on and coming out of bedrock.
Alkaline hydrogen reduced water generator developed by President Myung Soo Lee of VI Co., Ltd after about 10 years of labor pains has similar structure to principle of natural generation and has two brands of Top-ion for drinking and Skin-ion for beauty care have developed by mixing various minerals, far-infrared rays, etc.
Actually if you observe this function, you can observe the phenomenon yourself that fine hydrogen ions is eluted continuously by reaction with water.
If Skin-ion, portable natural mineral alkaline hydrogen reduced water, is applied to skin, hydrogen ion reduced water is absorbed fast into the skin and has very effective properties for prevention of atopic diseases as well as various antimicrobial activities. The reason is that as the size of water particles are much finer than the existing water particles, they are easily absorbed into the skin and have the user experience immediate effect..
Comparing the size of water molecule, it is 120Hz for purifier water or tap water but 118Hz for distilled water, 105Hz for ground water, 94Hz for drinking spring water and 75Hz for watermelon while it is 54Hz for alkaline hydrogen reduced water. Like this, it shows marked difference.
Because of such effective efficacy, products developed by applying it to the existing water purifier system are sold at high price and even if there are other products from 7~8 companies including Japanese products, most of them are devices through ceramic ingredients or using electricity, so they have limitations in practicability and may bring the 3rdrisk due to too much artificial and strong magnetic field applied only to one axis and the price is also high.
Especially what you have to note is that even if some products generate water circulation with similar technology without mastering the principle of reduced water, they are inferior in effectiveness, not recycled and lose half the efficacy gradually, but it assumes an aspect that normal consumers cannot easily distinguish differences between them because of insufficient expertise.
In particular, Skin-ion, a product developed by VI, has an advantage to reuse by refilling water 700 times and Top-ion for drinking can be used for 1 year if it is used after putting it in vinegar, taking out within 10~30 seconds when plenty of bubbles are formed and washing with water once a week. This point allows ordinary person to apply recycling process easily so it is spotlighted as a world-wide big patented product.
In this regard, Director Dong Hwan Kim of Research Institute for International Strategy on Environment says - Alkaline hydrogen reduced water generator developed by VI is a device to generate practical active mineral alkaline hydrogen reduced water, which is designed by engrafting health functionality onto water purification treatment.
Especially a thing to attract interest is that this instrument is very economic because it can break down disinfection smell of tap water and allows us to use all kinds of drinking water repeatedly.
In other words, if the container is filled with drinking water, mineral alkaline hydrogen reduced water is produced.
Like drinking tasty water after natural purification only with pebbles or sands in the past, even if no complicated purification filter is used, good drinking water is available easily at any time by adding reduced hydrogen water to primarily verified drinking water. In this sense, it can get very high marks. Therefore, if this function is extended and applied to various water purification systems, it can open a new prospect to take a quantum leap in water treatment system.
Products holding such efficiency and economic efficiency has been registered as medical devices in US FDA, also registered as medical devices in MFDS, Korea and received Certificate of GMP (Standards for manufacturing and quality management of Medical Device) and ISO 13485 Certificate (International Standards for Medical Device Quality Management System). As the result, now it is actively used in South America as well as Japan and USA and some were exported to China but now export to China is stopped temporarily due to issue of imitation.
Price is 200,000 Won for Top-ion and 150,000@on for Skin-ion to be used economically.
(2016-04-04 (Mon) 23:59 Environmental Management Newspaper/ Reporter Won Gi Suh)
-agamool@hanmail.net/kim dong hwan/010-3733-2331-